Big Willie! That's the NE Ridge. if you squint... you could probably make out the North Arete as well.
Scott and I met up on Shasta last May. I met Scott at the same time I met Barrett... right near the top of Misery Hill on Shasta. Scott was contemplating descending this route he had heard of, "Konowakiti.... something" and he somehow convinced Barrett and I to join him. The descent went well, and the partnership On top of Shasta that day, I met two fine partners to enjoy the mountains. I've gone out to
Pear Lake Hut
with Barrett, and after quite the coordination effort Scott and I set aside a date and committed to enjoying another adventure in the mountains,
Galen Rowell style
.
It's really satisfying when something you plan out a few months in advance actually happens.
After climbing Cathedral Peak in the morning, we stopped to for food at Von's in Bishop, then made it out to Symms Creek Trailhead.
The storms from a week prior had caused wildfire outside of Bishop. And the same one also caused flash flooding down here..
The long twisting rib on Williamson's N. Face. We were thinking of attempting this climb, but decided not to.
Here's the route marked in red... NOT green. Courtesy of SuperTopo. Several guidebooks have it marked as the green route I guess.
Flash flood damage. The dirt was as hard as concrete.
Sunset... close to Anvil Camp. We hiked maybe another 30 min or an hour in the dark with our headlamps on and made it to Anvil Camp a lot quicker than we thought.
Sunrise on Sun. Check out the Sierra Wave. Actually, check out the vid below... about 15 seconds in.
Breakfast, Lunch, Snack... all set to go.
We found these boots under a rock next to where we were sleeping... quite mysterious.
Scott approaching Shepard's Pass
And our first view of Tyndall.
At the base of the North Rib. Class 3. This was quite the stairmaster climb... I guess it was kinda fun. Nothing too aesthetic about it.
My view of Williamson from Tyndall. The lake to the right is our next destination. You can make out the black streak, which marks the Class 3 route up Williamson's West Face. The long twisting rib is out of frame from this angle.
This is the unnamed ridge behind Tyndall. From my view that face looked gorgeous.
Looking back the N. Ridge of Tyndall.
And looking straight down the face. I believe this arete would be Tyndall Effect (5.6).
Scott on the summit!
Looking past Versteeg, Trojan... all the way to Whitney.
I thought this was funny..
the front...
Hardly legible, but it said... 4 hrs from the car, up a new route, 5.11 R , A3+, M7 traverse to Williamson and parasail back down... next time.
Summit shot!
From our vantage point on top of Tyndall, it looked like a fun ridge traverse to go towards Versteeg, then down a col into Williamson Bowl's lake. So we started heading south on the ridge.
The climbing definitely got interesting at some points...
Here's Scott on top of a bunch of loose rocks...
Another view of the peak behind Tyndall.
A nice chunk of quartz
After a few dead ends, we finally descended quite a ways, then back up a big col.
To finally gain the col between Versteeg and Tyndall. This pic shows the Class 3 route up Big Willie very well. It's the obvious slash up the middle of Williamson.
We descended to the lake where Scott proceeded to eat raw green onions.
This is the view looking up the class 3 route on Williamson. The black streak is in the middle of the pic.
At the top of the class 3 chimney. A crow perched on a tower on Willie. Actually... to the right of the crow is the entrance of Giant Steps Couloir.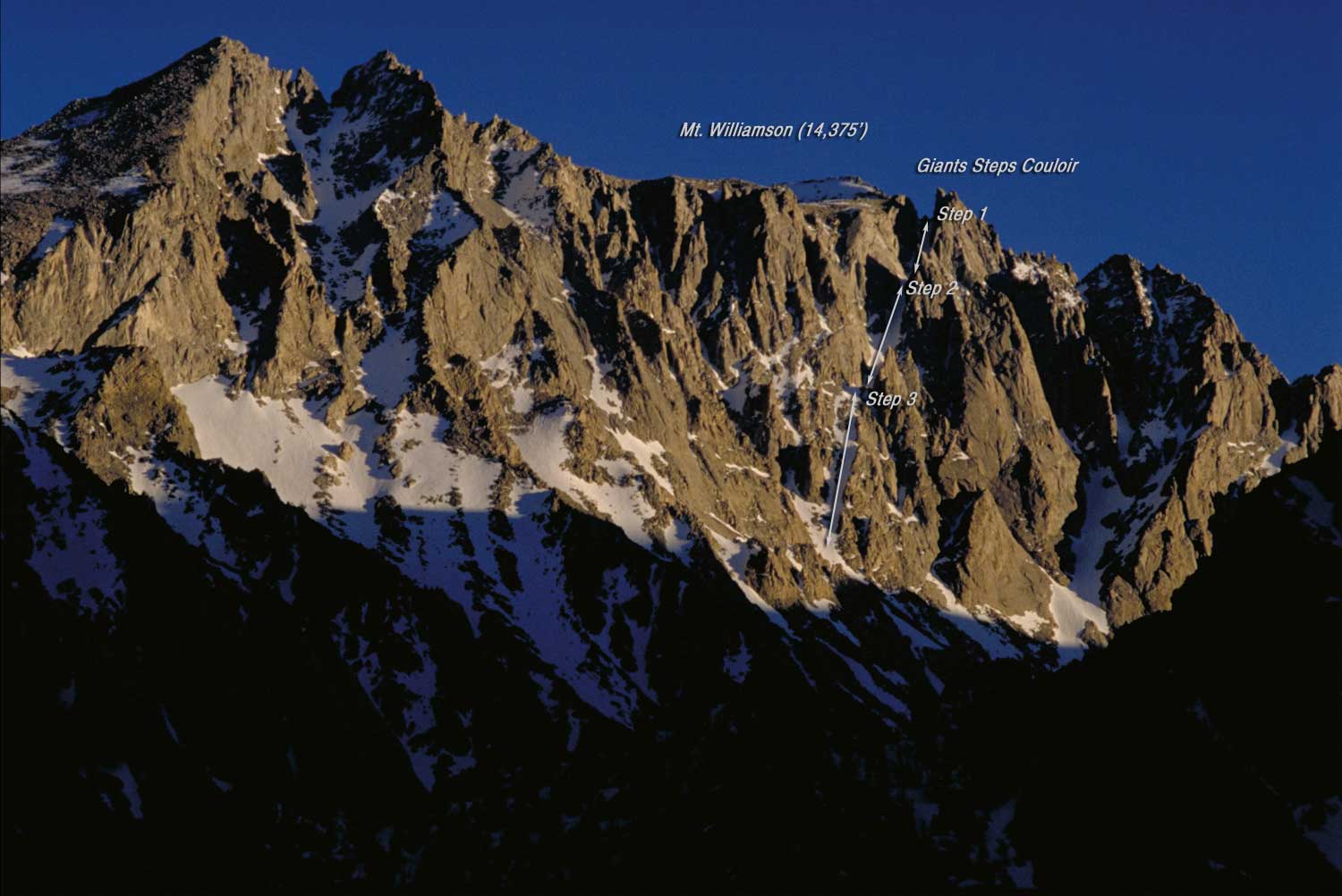 To give you another perspective... I just made it up a chimney right below the "G" of Giant Steps Couloir in the pic above, climbing from the other side. This is another good pic of the Long Twisting Rib. From earn your turns.
The plateau on Willie... looking over at the East Horn. That's where the top of the Long Twisting Rib ends.
Summit shot.
Looking back at Tyndall. This SW face is where all the technical routes are.
Mt. Whitney.
Scott wasn't sure he wanted to keep on trudging on after Tyndall, so he said he's stay back. Turns out he started about 30 min after I left him at the lake... so I waited at the chimney for him to tag the summit. This looks a lot harder than class 3. And I'd say it is. But I guess it's a normal Secor Class 3...
A better look at Tyndall's SW face.
These scrambles sure beat up your shoes...
Once we descended Williamson we were back at the lake in Williamson Bowl... and we decided to jump in.
This was awesome!
The lake at the base of Tyndall.
And another view of Tyndall
This is an old sign... no more Big Horn Sheep restrictions...
Heading back down from Shepard's Pass.
A better look at the flash flood damage. Gotta say... that would have been REALLY cool to see...
Timeline for reference:
Fri - 8 pm met up with Scott at Walmart to carpool the rest of the way.
12 am - made it to Tuolumne slept
Sat - 6 am - woke up, had a quick meal... drove to Cathedral Lakes TH
8:30 am - started up Cathedral Peak
11:30 am - top of Cathedral
1 pm - back at the car, ate at Whoa Nellie Deli, picked up our permit, then more provisions at Von's in Bishop.
5 pm - arrived at Symms Creek, took off 30 min or so later..
9 pm - Arrived at Anvil Camp. We cooked our meals, and hit the hay by 10?
Sunday 5: 30 am - woke up, packed, ate, dropped a deuce, then hit the trail by 6:30?
7: 15 am - Top of Shepard's Pass
9 am - Summit of Tyndall
11:30 am - Made it to the lake at the base of the West Face route (that was quite the detour)
1:15 pm - Summit of Willie
2:30 pm - Scott summitted, and was back at the Chimney
3:30 pm - Jumped in the lake
4:30 pm - X-country back to the top of Shepard's Pass
5:40 pm - back at camp (Scott took a 15 min power nap)
8:30 pm - after running the last 9 miles or so, we were back at the car.
10:15 pm - made it to the Subway in Bishop and scarfed the highest calorie footlong they had
Mon 1:30 am - drove through Yosemite, made it to Rainbow Pools, crashed out
4:30 am - woke up and got in the back of Scott's van for the rest of the drive home
6 am - back at the Walmart in Pleasanton where I had left my van for the weekend.
7 am - back home, did the dishes, gave Kai a big hug after he had his milk and walked Mingus around the block.
8:30 am - at work...
Here's the strava log from Anvil Camp down.